Community Contributions
People Who Make It Right is a philosophy that applies not only to our relationship with our customers, it also applies to our relationship with the communities in which we live, work and play. We believe we have a responsibility to be good citizens and Rockline's associates are actively involved in serving our communities.
Read about Rockline's community engagement activities.
Sheboygan, WI
2017 Ralph and Clare Rudolph Scholarship Recipients
Rockline is pleased announce the recipient of the 4 year Ralph and Clare Rudolph Scholarship is Vallerie Griffiths. Vallerie will receive $2,000 per year for the next four years as she pursues a degree in Business Administration with an emphasis on Human Resources from Union College in Lincoln Nebraska. She graduated from Booneville High School this spring. Her mother, Xiomara works as a first shift line operator at Rockline's Booneville facility.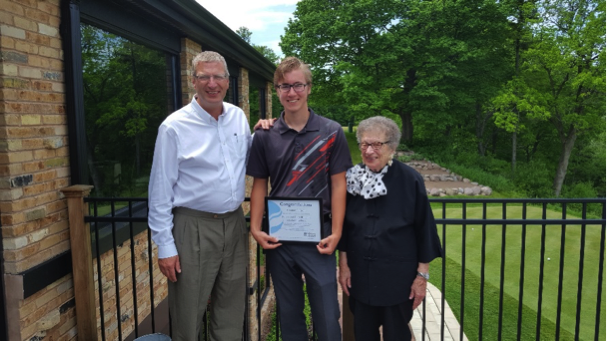 The recipient of the 2 year Ralph and Clare Rudolph scholarship is Connor Froh. Connor is planning to attend Lakeshore Technical College where he will pursue a CNC Technician Degree. He will receive $1,000 a year for two years. Connor was home schooled and graduated from high school in May of 2017. Connor's father Jeff is the Senior Human Resources Manager at Rockline's facility in Sheboygan.
2016 Ralph and Clare Rudolph Scholarship Recipients
Rockline is pleased to announce this year's Ralph and Clare Rudolph Scholarship was awarded to two individuals. The winner of the 4 year scholarship is Ivette Marte. Her parents both work at the New Jersey facility. Her mother, Yomaris works in packaging. Her father Felix is a custodian. Ivette will receive $2,000 per year for the next four years as she pursues a degree in Chemical Biology from Stevens Institute of Technology. Ivette graduated from Manchester Regional High School last spring.
The winner of the 2 year scholarship is Sarah Reed. Her mother is Summer Reed, a Process Engineer in Springdale. Sarah is planning to attend Northwest Community College. She will receive $1,000 a year for two years while pursuing a degree in Nursing. Sarah graduated from Elkins High School last spring.
Montville, NJ
We had a toy and food drive for the New Jersey Community Development Corporation (NJCDC) a non-profit community development and social service agency based in Paterson, NJ.
We also donated $$ to 10 different non-profits in the Paterson and Dover, NJ areas.
We held our United Way drive in December.
We had a blood drive on Thursday, November 4 with an organization called Community Blood Bank.
Booneville, AR
ROCKLINE BOONEVILLE LOCAL COMMUNITY SCHOLARSHIP
We are pleased to announce that Ramsey Fereck is the recipient of the Rockline Community Scholarship for 2017. Ramsey is the daughter of John Fereck, who works in our Facilities Maintenance Department.
Ramsey is described by her school counselor as "one of the most impressive students I have encountered. She is intelligent, musically talented and mature." She is ranked in the top 20 of her class, has taken every AP course available and has a 3.38 GPA. Ramsey is very active in school functions where she was the band flag line captain, served in the Beta Club, and as secretary and treasurer in the school's robotics Program, the Rocky Balboabots. Ramsey accumulated over 300 volunteer hours in six weeks

Ramsey plans to major in chemical/physic engineering and is a attending Southern Alabama University Honors College.
Rockline Industries in Booneville Arkansas has participated in our local community scholarship program since 2008, and has contributed every year in providing support for our local students and communities.
Photo Link: https://www.facebook.com/118017528245369/photos/a.210587548988366.46896.118017528245369/1026736260706820/?type=3

The Booneville School Board appropriated funds to teach robotics next year at our high school. Students will receive 7 hours college credit and high school credit concurrently. We would like to thank Rockline, UAFS, and our school board for making this a possibility.
Rockline Training Article: Rockline Associates Earn Workforce Leadership Certificates from UAFS
Springdale, AR
Rockline Associates collected & donated 1069 school supply items to be distributed by United Way of NWA to needy children for the upcoming school year.
We also had a team that volunteered for the United Way at local Walmart for their Fill the Bus drive
Rockline donated 24 cases of wet wipes for military troops in Saudi Arabia and Alaska. Wipes are used by soldiers in the field for "dry baths". Supplies enough for 300 soldiers
Global Quality and Product Development put on their Red Noses in support of Red Nose Day (a campaign dedicated to helping children and having fun). Proceeds benefit children and young people in the US and some of the poorest communities in the world.